Giant Circle Designs
Welcome to Giant Circle Designs
Who is Giant Circle Designs?
We are a group of designers unlike any other. We do not drive flash cars and sit in offices doing nothing. We are highly skilled. Most of Giant Circle are from professional Design house backgrounds. We are highly trained in equipment operation: High speed scanner, wide format, binding, lamination, design and DTP and so much more.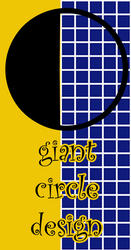 What File Types/Documents Do You Support?
We support many of the industry file types:
PhotoShop, Illustrator, Bitmap, JPEG, GIF, InDesign, Quark, Word, Excel, Powerpoint and Publisher. If your file type is not listed please contact us and we should be able to advise you what to do.
Why Should I/We Choose Giant Circle?
Giant Circle offers the best in design and document services. Whether it is a simple Resume to a complete business solution we can handle it all! A Sample of our products are: Flyers, Postcards, Resumes, Business Cards, Invites, Newsletters, Logos, Web design and layout, Identification Tags, Signs, Posters and so much more. Unlike many other design houses we do not charge for proofs. We base our rates on a professional scale. No $75, $100, $150 per hour because we understand that the average new business or even medium business can not wast money. We offer professional services and a valuable price.
How Can We Submit Our Jobs To Giant Circle?
You can submit files to our email. We do not have a mail box limit so do not worry about large file sizes. Please remember if you have used custom fonts please also attach them to your file or give us a list so we can reproduce your work to the highest quality. If you are unsure how to attach files please contact us and we can walk you through the whole process.